Back in the day, all ready-mixed house paints were oil-based alkyd. These paints are made with a solvent that makes them notoriously high in odor and certainly high in VOCs. Even as we shifted away from oil paint for the walls, we kept it on trim and doors due to its durability.
The movement towards green building has certainly helped push the industry to create non-toxic alternatives that still meet the level of durability that is expected for trim and door paint but are low in VOCs.
There are three very different non-toxic options that you can consider for trim, molding/casing, and doors. Not all options will suit everyone, so be sure to think through the pros and cons of each option.
If you need a primer that blocks the offgassing of formaldehyde from MDF trim and doors that contain engineered wood, I go over the various ways you can block that with primer-paint combos.
This post contains affiliate links. Upon purchase, I make a small commission at no extra cost to you.
1. Water-Based Alkyd Paint
This is the most conventional alternative, it performs at high levels, but is not zero-VOC.
There are oil-based alkyd paints and water-based alkyd paints. Water-based alkyd paints are a rather new invention and are often referred to as enamel paint.
Over the years the formulas have improved. They are low-VOC formulas with the application and smooth hard enamel look of an alkyd paint. These paints minimize surface imperfections and hold up well in high-traffic areas. They are tougher than your usual latex wall paint.
Brands
Sherwin-Williams ProClassic Alkyd Enamel is probably the most popular paint for interior trim, molding, and doors. It's also a good choice for cabinets and windows. It's a low VOC formula that some sensitive folks have reported doing well with.
Benjamin Moore Advance is another well-known brand. I have tried this one myself and I did find it relatively fast to offgas and very low in odor once dry. I did have trouble applying it with a brush, which is something I have heard from others as well. Perhaps our techniques are off, but it might just be better spray applied.
Talk to your painter, they will likely want to go with the brand that they have experience with.
Those who have extreme chemical sensitivities may not be able to go with alkyd paints, and should definitely test out samples of these brands before proceeding.
If you want a conventional brand, and a conventional look, and are OK with it being low-VOC and not zero-VOC, then this is a good option.
2. Natural Linseed Oil Paint (Solvent-Free)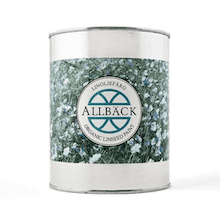 This is the all-natural option, for purists who don't mind the linseed oil smell.
Natural oil-based paint is a good durable option for trim and doors.
Allbäck linseed oil paint is one brand that is available in North America that is made without solvents.
The ingredients are boiled linseed and pigments made from titanium oxide, iron oxides, chromium oxide green, and ultramarine blue. The drying agent is manganese.
No primer is needed with this paint, except on very dry wood a prime coat of pure linseed oil helps. You can paint it directly onto wood, on pre-primed wood, and on wood previously painted with oil-based or water-based paint.
It's not impossible to paint over this in the future, like with other oil-based paints, you can go over it with a transitional primer or another oil-based paint.
I have tested this paint and I would not say the odor is super strong. Unless you have challenges with linseed oil or other natural odors this is a great option.
3. Zero-VOC Acrylic Paint
This is your zero-VOC option, for those who don't want or don't tolerate VOCs or the natural odor of linseed.
If the first two options are too high in odor and don't work for you, you certainly can use a regular zero-VOC acrylic paint. Go for a semi-gloss sheen so that you have a little more durability and wipe-ability than an eggshell or flat sheen.
ECOS Paints is a fantastic brand of low odor, fast offgassing paint that is currently the favorite amongst the chemically sensitive.
This is not as durable as enamel paint or oil-based paint, but it's your lowest odor option for sure.
If you are painting over oil-based paint you will need a transitional primer first, AFM Transitional Primer is a good one.
I've tested out almost all of ECOS products and they are good quality paints as well as the lowest odor acrylic option.
---
This is a conversational guide to non-toxic wall paint, primer, and trim paint, like how I would talk to a client.
The brands are the same as those listed in my paint articles, but if you would like to hear more of my opinion, you can grab this printable article on Etsy for $5.
---
Sealing in the Offgassing of Formaldehyde from Trim and Doors
If your baseboards, trim, or molding are made with medium density fiberboard (MDF) then they offgas formaldehyde when new. Hollow core doors are made with a skin of high density fiberboard (HDF) which usually offgasses formaldehyde, or they are solid core which usually has an interior core of particleboard or MDF (and also offgases some formaldehyde).
To block this offgassing you may want to use a primer that will seal this in before continuing on to the paint.
Primer Options:
1. AFM Transitional Primer – does a good job at sealing in offgassing. (It is low-VOC itself and needs some time to offgas). You can follow this with any of the paints above.
2. BIN Shellac – is a shellac-based primer which does a good job of sealing in offgassing. (It is also low-VOC and some people will find it takes some time to offgas). You can follow this with any paint type.
3. Pure shellac – pure shellac is a great sealer of VOCs but it's harder to paint over. Dewaxed shellac is the way to go. It is just made of pure wax and alcohol. Once the alcohol flashes off (which is fast) it's offgassed. You can follow dewaxed shellac with AFM Transitional Primer + paint; or Annie Sloan Chalk Paint + Farrow and Ball Primer + paint; or paint directly over shellac with natural linseed oil paint.
Looking for non-toxic door and trim materials?
My post on doors goes through all the options of door materials.
For trim and molding, the most ideal material is solid wood. The other options are MDF which offgasses formaldehyde and PVC vinyl.
Corinne Segura is a Building Biologist Practitioner with 8 years of experience helping others create healthy homes.