For the MCS patient, a chemical-free and mould-free bathroom is of utmost importance. I have yet to see a conventional bathroom that does not have mould growing in walls or grout after 5 years or so.
So let's dig in.
Walls
Source: renewable.typepad.com
Magnesium Oxide Board
The walls of my tiny house are made of Magnesium Oxide board which works in place of drywall. It does have a problem with cracking along the seams, at least in a tiny house.
MgO board is a cementitious wall board ideal for those with chemical sensitivities. It is non-toxic, VOC-free, and a very impervious to mould. If you have a wood
-
framed wall it will be easy to attach the board to that. Good brands are
Dragonboard
(US, and coming to Canada soon),
Mag Board
(US) and
Magnum Board
(available in Canada!)
The second best option which is not totally VOC-free is DensArmor plus. Another gypsum board worth considering is AirRenew which claims to soak up formaldehyde. However it contains a biocide which is likely not healthy.
Finishing MgO Board
You can plaster, paint or tile over MgO walls. Here are some tips on using
plaster.
If not painting, the MgO boards would need to be primed. See
Finishes
for a list of suitable primers and paints. I used Mythic primer and paint which was tolerable.
Non-Toxic Shower Stall
Tiles
Ceramic
and
glass
tiles are inert and totally safe for the chemically sensitive homeowner.
So you don't want ceramic or glass tiles, you say. OK, well then it gets more complicated:
Slate and Marble - make sure they don't have a chemical sealer on them already, and with marble you don't want it to have a resin on it either (which is applied to most marble before it hits stores). Seal with a natural sealer as listed in Finishes. (Marble may also need a specfic grout, talk to your contractor).
Concrete tiles - my preference because of the beautiful designs. Needs to be sealed with a non-toxic finish.
Imported glazed tiles should be tested for lead and radioactivity.
It's preferable to have something glazed/sealed in the factory but make sure if it's something other than ceramic tile that it is fully cured and won't be off-gassing.
Porcelain - from what I know it should be an inert suitable material, but it may not be able to be laid in Portland Cement as grout. Look into it.
What about concrete?
Yes good question.
Retroplate
concrete polishing is a non-toxic beautiful concrete finish but I don't know if it is 100% waterproof, and I could not find anyone in BC who would do it on walls.
There are other
concrete sealers
that in theory should seal (unfinished) concrete, so that may be an option, and actually it is very much in style right now. I could not find one that was non-toxic and waterproof.
Tadelakt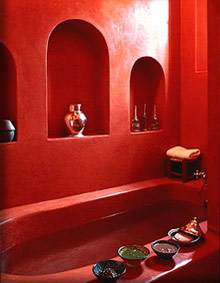 Tadelakt is a natural waterproof finish for bathrooms including the shower area, that has been used in Moroccan bathhouses for centuries.
It is a labour intensive finish made from lime plaster and olive oil soap which together produce a chemical reaction that provides waterproofing.
There are builders and artisans who are experts in this technique in BC and their work can be seen at
OUR Ecovillage
.
The down side of this finish is that you may need to polish it with olive oil soap
as often as every month,
and like any plaster finish, cracks will likely form, needing touch ups. So, you have to be willing to do a little upkeep with this one.
For a how-to get ahold of this book:
Tadelakt
.
Metal Shower Stall
I used an aluminum shower stall in my tiny house and this was a difficult aspect of the build to figure out.
I have a whole post
devoted to my shower stall. Stainless steel could also be used.
Fiberglass
Fiberglass may be an option for the not super sensitive if you installed it yourself with a non-toxic adhesive. More info about that in
this post
.
Accessories
For a non-toxic shower curtain I use this
EVA one.
This is my first choice for a non-toxic non-slip
tub mat
. It is odour-free as well.
Chemical-Free Mortar Grout and Caulk
For thinset without harmful additives try
C-Cure 911
.
For tile grout I would use Portland Cement (with no additives) mixed with sand, lime and water for a chemical-free grout. Or you can buy a ready made mix such as C-Cure AR Sanded Grout 922, or C-Cure supreme Grout 925, or
Hydroment
.
In order to prevent mould in the grout (I have yet to see grout not get mouldy with time) I would use a AFM grout sealer (see
Finishes
), and be sure to stay on top of maintentece and re-seal it every few years. The grout should be replaced when the mould is deeper than just surface.
Don't lay tiles over toxic particle board, or mould prone green board.
Seal well between the sink and the wall, the bathtub and floor, around the toilet (if using a toilet with water) with Silicone. I
have a post
about finding a tolerable silicone caulk.
Reducing Moisture
A fan is absolutely vital to reducing moisture and therefore mould. I would splurge on this item. It's always good to have a window too, to air things out. Another useful tip is to squeegee the walls (and floors if you have an open drain) after showering, this can make a big difference.
No-Nos
To keep VOCs out of the bathroom - avoid laminates, particle board cabinets, plywood, greenboard, drywall,
PVC shower curtains
, melamine, conventional wood stains and sealers, conventional tile sealers, grouts with latex additives, caulk (other than aquarium grade silicone), and conventional paints and primers.
Cleaning Products
Now that you have gone through all the trouble to pick non-toxic materials, and taken steps to prevent mould growth, do not go adding a bunch of highly toxic airborne chemicals with conventional cleaning products, air fresheners, and beauty products!! In fact, going with
natural alternatives
vastly reduces the chemicals you breath in in the bathroom and can make the difference between becoming dead exhausted after showering and still having energy post-shower.
For natural, cheap, non-toxic cleaning products see:
Cleaning Products
.
Toilets
I have a composting toilet in the bathroom as it is a great sustainable option and makes it easier to be semi-off-grid in a tiny house.
This post
discusses some issues with composting toilets.
Sources:
Re|shelter
and
Prescriptions for a Healthy House, 3rd Edition: A Practical Guide for Architects, Builders & Homeowners