Flooring! So many bad options, but so many good, non-toxic options as well!
1. Wood
Source zege.gr
Wood flooring will always be my number one choice. However, wood (and many natural aromatic oils) contain terpenes which are....
VOCs
! So there goes your Green/Chemical dichotomy. Aromatic woods like pine and cedar have much higher VOCs than oak for example. Wood also has a higher possibility of harbouring mould than less porous materials. To prevent mould you should make sure your wood has been kiln-dried and kept dry until you have a roof on it.
There are plenty of acceptable options for finishing wood. I used
Hemp Oil
on my floors. AFM
is another great non-toxic finish. More about wood sealers in my post on
sealers
.
Most people should be fine with softwood plywood which rapidly offgasses.
For subfloor adhesive
AFM Almighty Adhesive
is super tolerable. Another option is
Liquid Nails Subfloor Adhesive
it is less than 20g/l (lower than AFM Almighty Adhesive, but I find AFM more tolerable).
2. Polished Concrete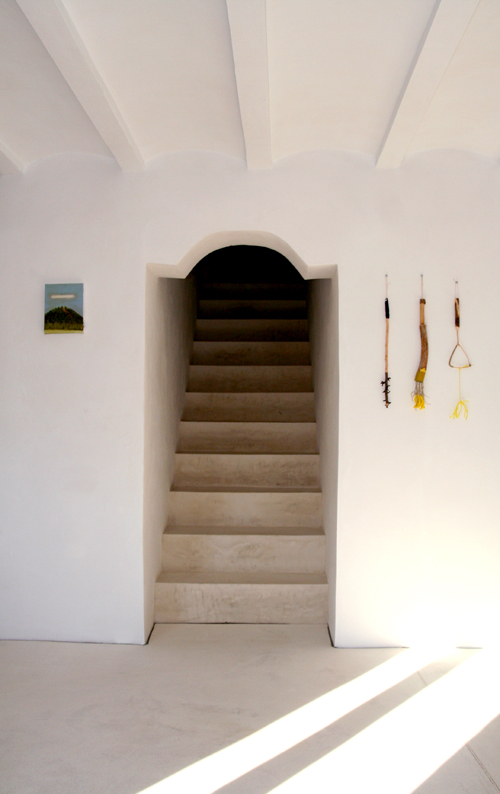 Source losgazquez.com
If polished concrete flooring makes you think IKEA warehouse, think again, polished concrete can look beautiful.
The Retroplate system is completely non-toxic/VOC-free but is not as cheap as I had hoped. It is available across Canada and the US, you just have to find someone who specializes in that system.
You can do acid stains, add natural pigments, use white cement, or add white sand to Portland Cement to get the look in this gorgeous photo.
3. Tiles
Source sacramentostreet.com
Glass tiles are inert and super-MCS friendly.
Marble is good in theory but most of it has a resin put on it at the factory to fill in tiny holes and fissures, and it might have a (chemical) sealant on it as well. Though a pure slab, or tile, can be sealed with
Tung Oil
. (
Tung oil has a smell and might not be tolerable) or
AFM Mexeseal
.
Slate is also good in theory, as long as it doesn't have a chemical sealer on it. Seal with
AFM Mexeseal
.
Concrete tiles are my preference because of the beautiful designs. Look for Eco tiles or ask what additives are in the concrete. I sealed mine with
AFM Safecoat Penetrating Water Stop
.
Porcelain and ceramic are safe if lead-free and do not contain radioactive substances.
Imported glazed tiles should be tested for lead and radioactivity. A client just tested American made tiles that stated they were lead-free, but when tested they showed high levels of lead. So it might be wise to test any glazed tile regardless of origin. And be extra careful when removing them as the lead dust is particularly harmful. Tile over if possible instead of removing.
4. Natural Carpet
Source bloomsburgcarpet.com
For natural, non-toxic carpet look for chemical-free fibers (normally wool), no flame retardants, no mothproofing, no stain repellant, natural padding and either no adhesive or a non-toxic adhesive. I have reservations about natural latex and would not use that product in my house because of how mould-prone it is.
Nature's Carpet
is made with wool, no mothproofing, natural latex, natural dyes and a non-toxic padding.
Either tack down the carpet or use a zero-VOC glue such as
AFM 3 in 1
.
Other good companies are Earthweave (wool) and Natural Home Products (wool).
If you have conventional carpet in your house seal in the VOCs with Carpet Seal.
5. Earthen Floors
Source ahousemadeofmud.blogspot.ca
Earthen floors are used in cob, straw bale, and other natural homes.
I love,
love
, these dark chocolate floors which for sure have some
pigment
added and are finished with walnut oil. The go-to oil for earthen floors is usually linseed oil cut with citrus solvent (all natural) but it is very smelly (terpenes!) and often intolerable to the chemically sensitive. Some have claimed that walnut oil goes rancid on earthen floors.
Hemp oil could be tried on earthen floors.
Also good to know - organic, mould-free straw should be used in earthen floors. This type of flooring goes really well with radiant heating because it keeps the floors dry and it heats the mass of the house which is way
more efficient that heating the air.
If you are opting for earthen floors make sure you use a radon barrier. See
Prescriptions for a Healthy House
for more info on that.
Other options to consider:
Natural linoleum
- has naturally occurring VOCs from linseed oil and needs yearly linseed oil treatment. This is a natural smell and may be tolerable for some. This is something I would consider in a healthy home if the client has sniff tested it.

Laminate
does give off chemicals, but there are some low-VOC options. You might want to check out the brands that have GreenGuard certification. It doesn't require adhesive which is a bonus. Generally this is not low-VOC enough for a healthy home.
Engineered Woods
- Junkers, Kahrs, and Wood Flooring International all meet EU emission standards. The substrate is still problematic so I don't think this is a good chemical-free option.
Pre-finished Hardwood
- Usually finished with
aluminum-oxide-infused polyurethane and cured under UV lights, these are usually very well tolerated once cured. I consider this to be safe product for the chemically sensitive. Test it first.
Cork,
like wood, has a natural odour (terpenes). A resin is usually used to bind all the small pieces of cork together into flat pieces. There are companies that make the tiles or rolls without resin (they heat press them). An adhesive is required either to glue it down (and there are 0 VOC glues for this) or in the floating floors it is usually glued to a fiberboard. It is finished with urethanes/acrylic which may be tolerable once cured. Cork is a good choice for some - I am very particular about the brand, it must be heat pressed and I would source the glue.
Bamboo
also requires resin or adhesives and a finish. However, there are many that are GreenGuard certified for low emissions. This wood is problematic and is known to shrink. I put it in the same category as laminate and engineered. Not good enough for the chemically sensitive.
Fiberglass Floors - Tarkett FiberFloor is a flooring made of fiberglass, foam and coatings. It may have a mildewcide in it. It is extremely low-VOC at 10μg/m3. This would be tolerable for most people.
Hard Vinyl - the kind usually seen in schools and commercial buildings tends to be well tolerated. It would be an unusual choice for a home.
Toxic: soft
vinyl
,
conventional carpet
and
conventional linoleum
all give off major VOCs.